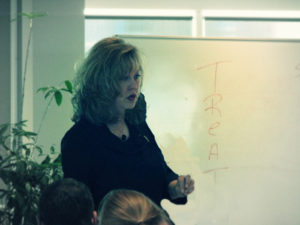 A nearly-fatal dog attack in the late nineties right in her own kennel completely transformed Shannon's entire life perspective. This clarifying experience left her with a new appreciation for seizing life's precious moments and a primal need to make them count. Instead of leaving the pet industry and the danger of dogs behind, Shannon redirected her focus and used the unfortunate event as a springboard to continue her momentum.
She often shares her message of overcoming adversity through motivational keynote presentations. Shannon's signature keynote  Getting a New Leash on Life consistently leaves audiences moved and motivated to thrive in the midst of life's seemingly-constant adversities. She has shared her unquenchable zest for self-challenge and her love-affair with inevitable change to thousands over the years. She has traveled all over North America, Europe, and Australia, provoking and motivating both pet industry and main-stream audiences alike.
In addition to her motivational keynote, Shannon offers varied presentations focused on boarding kennel and grooming salon business operations, as well as the art of luxury pet care, the latest luxury trends, and the effective marketing of high-end services, etc. Below you will find a few of her most popular topics.  (Please note that half-day and full day seminars and workshops are available.  It is possible to combine some of the topics to create an event; or perhaps you have other topics you would like to have covered.  Shannon is happy to customize a program to fit your needs.) Click here to see a list of pet industry events where she has been a featured speaker.
UNLEASHING THE LUXURY: Designing Authentic Spaces and Services Which Cater To Luxury-seeking Clientele
What does luxury really mean in the pet care industry?  Luxury-seeking pet care clientele really do exist in every market. Yes, high-end usually means HIGH-MAINTENANCE! But it also means higher prices…Now is the time to tap into this highly-profitable niche.
Shannon Heggem is considered the global pet luxury expert. In this unique and engaging presentation, she will share the concepts behind what high-end clients are looking for, as well as creative and memorable ways to deliver.
Shannon will also cover fun and unique marketing strategies, which are a must to successfully sell these services. Attendees will also learn how to carefully plan the structure of luxury services in order to maximize earning potential.
DAMAGE CONTROL:  How To Effectively Respond and Manage A Social Media Backlash
Perhaps you have spent years building a powerful social media presence and practicing effective engagement techniques…or maybe you have chosen not to engage in social media at all.  At some point the inevitable happens: a crisis situation arises at your facility, and within just minutes the situation is splashed all over social media. Now you and your facility are facing negative and perhaps even hostile backfire. A backlash such as this can have huge financial impact, if not properly handled. In this session, attendees will learn techniques to monitor their online business presence, and work through situation examples and appropriate responses to various possible pet care scenarios. Attendees will also learn simple social media strategies to implement before a crisis happens, which can help to diffuse future negative online activity.
UTILIZING THE PERFECT EMPLOYEE:  Using Your Web Site To Save Time and Make More Money
An attractive, well-maintained website can boost facility earnings in many ways, as well as reduce overhead costs.  It is easier now more than ever for those with no web building savvy to easily utilize web technologies to increase add-on revenues and reduce employee workload. In this seminar, Shannon will present vital and successful site strategies:
How to gain credibility, business value, and a competitive edge with a clean and modern site.
Ways to sustain this marketing tool and keep it strategically current so that potential clients will be compelled to choose your facility over your competition.
Tips to visually showcase your outstanding services and drive sales toward add-on services.
Strategies to effectively collect and screen new client profile information through carefully-crafted forms.
PETIQUETTE:  A New Approach To Professionalism For The Pet Care Professional
Professionalism is more important than ever in the competitive market of pet care. Learn how to polish and fine-tune your facility's overall impression given to the public, with simple and easy steps. Shannon will cover the do's and don'ts of effective etiquette on the telephone, in-person, and written communication for a pet care facility. Shannon's fun and effective strategies will give your staff a new outlook, and your clients will notice and appreciate the difference, too.  Professionalism is a simple and compelling way to give your business the edge over your competition.
OBEDIENCE TRAINING YOUR MOST DIFFICULT CLIENTS

Do your clients snap and bite, when you would REALLY like them to sit up and beg?  Would you like them to perfect the sit-and-stay while waiting for their dogs to be finished?!  Don't miss this light-hearted seminar on the delicate task of handling your customers.  Learn how to effectively establish and maintain great and lasting client relationships, and create loyal customers who wouldn't dream of taking their pets anywhere else. Every problem client has the potential to be a loyal, lifetime client; learn the secret to unlocking their potential (without the use of a shock collar).  Explore the fine art of handling difficult situations and problem clients, and firing clients with finesse.
If you are interested in grooming or other topics, please feel free to contact Shannon to discuss your needs.